Women's Necklace Sizing Guide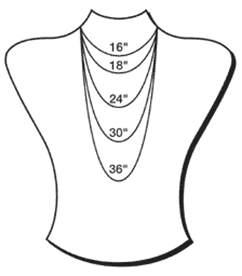 Women's Standard Length Necklace Sizes:
12-13 Inches Collar Length ~ Worn for a snug fit around the middle of the neck

16 Inches Choker Length ~ Not quite as snug as the Collar necklace, the Choker lays perfectly around the base of the neck

17-19 Inches Princess ~ Falls at or near the collarbone, just below the throat. Typically worn to create contrast to clothes with low
plunging necklines

20-24 Inches Matinee ~ Falls a few inches below the collarbone and is a tad longer than the Princess
28-34 Inches Opera ~ Single or double strands of this length are striking
Over 45 Inches Rope ~ The versatile Rope necklace can be transformed into a multi-strand necklace



22 Inches Falls at or above the neckline
24 Inches Falls below the neckline
Necklace lengths are measured from the hollow area at the base of the throat. if your neck measures 13 inches, then a 16 inch necklace will fall (drape) about 1.5 inches below the throat. The standard formula is to allow one half inch of drape per each inch of necklace length.


Necklace Style Rule:

A necklace is considered the frame of a woman's features and designates the area to draw attention to. Shorter necklaces will draw attention to a woman's face while longer necklaces will direct the eyes to your breast line, or cleavage. This Necklace Sizing Guide can assist you in making the right choice for a necklace or pendant set.
~~If you'd like to order any of our necklaces in a different length from what is offered in the listing, no problem! Simply contact us to request a custom design.

Women's Bracelet Sizing Guide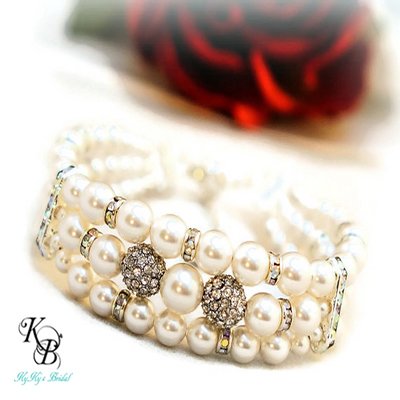 You may refer to the information below for a basic guideline to bracelet sizes. However, please note that these are approximate measurements. If you require exact measurements, please refer to the instructions below for how to measure your bracelet size.
Basic Guideline to Bracelet Sizing For Women

6.5 - 7 inches Petite

7.8 - 8 inches Medium

8.5 inches Large

9 inches Plus Size

9.5 - 10 inches Anklet Length*

*Ankle bracelets usually include an extender chain
How to Find Your Exact Bracelet Size
Follow these simple steps to determine your bracelet size:

STEP 1: Measure your wrist with a flexible measuring tape or a strip of paper, just below the wrist bone, where you would normally wear a bracelet.

STEP 2: If you are using a strip of paper, mark your size with a pen on the paper, then measure the strip with a ruler. That will be your wrist size.

STEP 3: To find your bracelet size, add the measurement you obtained from Steps 1 & 2 to the measurements below, depending on your preferred fit:

FITTING STYLE DESIRED Inches to Add to your Wrist Size

Snug Fit add 1/4" to 1/2"

Comfortable Fit add 3/4" to 1"

Loose Fit add 1 1/4"



**For example, if your wrist measures 5" and you want a comfortable fit, then your bracelet size is 5.75" to 6".

Children's Jewelry Sizing Guide
Choosing the correct jewelry sizes for your Flower Girls can be daunting, especially for brides who don't have children. That's why we've tried to make it easy for you by providing tips to assist you in determining the best size to purchase for the littlest members of your bridal party.

**Infants and toddlers should only wear necklaces and bracelets under constant supervision as they can be a choking hazard if pulled apart

Children's Necklace Size Guide

Ideally, the best way to get the correct size is to measure the child. This can be done simply with a string and ruler:

STEP 1: Use the string to wrap loosely around the child's neck exactly where you'd like the necklace to fall on the neckline. (You may want to mark the spot on the string with a marker)

STEP 2: Measure that length against the ruler. This is your necklace size.

We realize that you may not always be able to measure the child, especially if your flower girl or flower girls are coming from out of town for the wedding. If a parent is not able to measure for you, then you can use the chart below as a general guide based on her age. However, please note that this is only a general guide and sizes can still vary depending on her height and weight.
| 0 - 24 months | 10.5 - 12 inches |
| --- | --- |
| 2 - 4 years | 12 - 13 inches |
| 5 - 10 years | 13 - 15 inches |
| Tweens/Young Adults | 16 - 17 inches |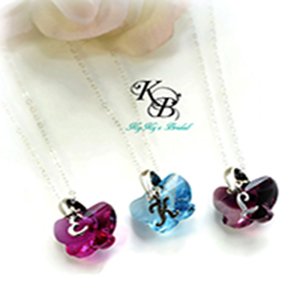 Children's Bracelet Size Guide

STEP 1: Use a string or flexible tape measure and wrap it snugly around the child's wrist, making sure there are no gaps between the string and her skin.

STEP 2: If using a string, mark the area with a marker and then measure it against a ruler.

STEP 3: Add 1/2 inch for any measurement that is less than 5 inches. Add 3/4 of an inch for any measurement that is 5 inches to 6 inches. (For example, if the child's wrist measures 4 inches, you would add 1/2 inch and get a bracelet size of 4.5 inches. This is the size you would purchase. If the child's wrist measures 5.25 inches, you would add 3/4 of an inch to get a bracelet size of 6 inches)

Once again, we realize that measuring your flower girl may not be an option. Therefore, you can use the chart below as a general guide, based on her age. Please note that this is only a general guide and the size can vary based on her height and weight.
Newborn - 1 month 4 inches
2-12 months 4.5 inches
12-24 months 5 inches
2-4 years 5.5 inches
5-7 years 6 inches
8-13 years 6.5 inches
14+ years 7 inches
~For BABY BRACELETS~
We do not recommend ordering a length of less than 4.5 inches unless the baby has been measured and the occasion, i.e. baptism, christening, etc., will be within the first two weeks following birth.

An average sized newborn baby will outgrow a 4 inch bracelet in a matter of weeks, or even days. Please contact us with any questions.